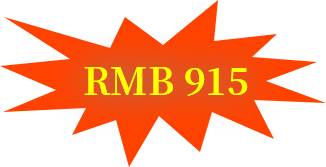 Promotion time: weekdays (Monday to Friday)
The package includes items:
1.18 hole green fee
2.18 hole caddy fee

3. lunch


Remarks:

1. All tee times must be booked in advance;

2. No refund will be given after booking confirmation; all bills must be paid in the lobby of Zhongshan Hot Spring Hotel before departure;

3. The above prices are subject to change without prior notice;

4. Non-players are not allowed to accompany the stadium;

5. Jenny's Stadium must use a golf cart: RMB 220 (18 holes);

6. The player's clothing must meet the ball dress requirements;

7. Sneakers must be rubber spikes;

8. ARNOLD PALMER COURSE is available Monday through Thursday and JACK NICKLAUS COURSE is only available on Fridays;

9. The above packages are not applicable to weekends and public holidays in Hong Kong;

10. Weekend time (Saturday, Sunday) charges: green RMB 1600, caddy fee (A grade 190 yuan, B grade 160 yuan), fare (220 yuan / department), lockers (45 yuan).

11. The above package price is only used for guests of Zhongshan Hot Springs. If you need to issue a housing invoice, you need to add 10% of the playing expenses.

Note: A 30% late fee ($288 for weekdays and 480 yuan for weekends) will be charged for cancellations on the confirmed booking day.
Booking contact: 0760-86683888-88386